Lacrimosa – The Inspiration 

The Latin word Lacrimosaopens one of the stanzas in the Dies Irae sequence of the traditional Requiem mass and means mourning or weeping. Although it is associated with the Judgement Day and remorse for sin, I see Lacrimosa in a broader context, as the ultimate expression of beauty through the embracing of sorrow. In its paradoxical nature, life often has a way of mingling pain with pearls, and planting seeds of hope in mourning. But my Lacrimosa is not downcast. Instead it is inquisitive, playful, spirited, and mesmerizing. It is a sonic exploration of the many layers of the emotional spectrum and a wonderment at the discovery of new worlds of beauty refined by fire. This musical journey has taken me to ambient meditative and sacred spaces, as well as joy and abandonment in highly dynamic dance sequences. 
Lacrimosa – A Feast of Flavors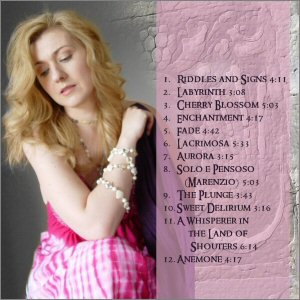 Stylistically, Lacrimosa is a post-classical fusion of the Medieval, Renaissance, Electronic Soundscape, and New Age Ambient music, but an aware listener is likely to encounter traces of English neo romanticism, as well as Asian, Celtic, and Eastern European inflections. Creating music to me has never been about pursuing purity of any particular genre, but rather about mixing various cultural influences to create new possibilities. Yet, even this process has never resulted in a mere academic pursuit, but served only as a tool in, what I feel is the primary role of music, expressing of human emotions. 
Lacrimosa – A Sonic Exploration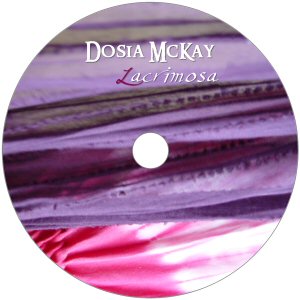 Previously I have composed music mostly for acoustic instruments and live performers, but with Lacrimosa I wanted to be completely unencumbered by the limitations of instruments, that is, I wanted to explore the uncharted, non traditional territories of sound. To this end I have layered many synthesized as well as sampled sounds from acoustic instruments and my own voice, but often used them in a non idiomatic way. I find that this approach produces a unique yet natural, or, what I like to call, an organic soundscape. Composing in this manner is extremely time-consuming, as I tend to obsess about the direction of every melodic phrase and transform each one from a mechanically sounding MIDI output, into a living and breathing entity. Yet the result is very rewarding because I feel that I am limited only by my imagination and can push the sound to its limits, altering the timbre, attack, release, spatial placement, and many other variables.
This time I was very happy to collaborate for the first time with Chris Stack (www.experimentalsynth.com), an electronic music artist, sound designer, and multi instrumentalist. I invited Chris to create a fluid and constantly altering texture of sound as a background for one of the tracks. He programmed a MIDI sequence which he staggered through multiple layers of varying sound densities, timbres, and articulations. The resulting effect became an intricately woven, hypnotic, and pulsating sound environment in the title track Lacrimosa.
Much thought and attention has been given to perfecting the sonic quality of every track. Having worked before with sound engineer Paul Howells on recording sessions of my jazz and film music, I returned to him to borrow his imaginative ear and a keen eye for detail. He added dimension, clarity, and nuanced sonic "spices" and surprises to every track, making each one a truly beautiful and moving aural experience.
Reviews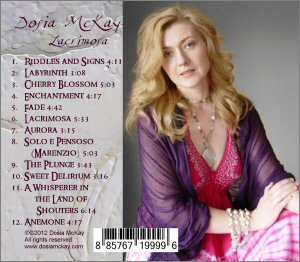 Dosia has created an absolute adventure for the ears & mind. There are so many tonal layers and subtle textures — that if you're a discerning listener — you don't want it to ever end. – Michael McLaughlin 
We have listened to the CD about 9 gazillion times – it is so wonderfully complex and rich and pure and – well, I don't have enough words to tell you. Thank you. I really don't think I've ever heard anything like it before – but I've been looking for it all my life. – Lynda 
This is the first complete album I've purchased from iTunes and I'm not sorry. Generally, I'm not much of a fan of a lot of "electronic" music because there's not much harmonic interest and precious little melodic interest. There are usually plenty of gooshy wooshy sounds to put you in some kind of mood and an attempt to maintain some kind of interest and development by adding new parts. I find some of this stuff enjoyable but being a musician I prefer a little more music in my music. Dosia McKay has created more of the balance that I like. There's harmonic interest, which advances the music in a way that rhythm and texture can't and some beautiful vocal and string melodies which leaven the electronic sounds. The music definitely sounds like it was composed by a composer and not by someone just hunting, pecking and overdubbing at a sequencer. There are a great many treats in this album. – oldprof
Release date: July 15, 2012 
©(P)2012 Dosia McKay / Gavia Music (ASCAP), All rights reserved