for Clarinet and Piano 
Composed: 2008
Total duration: 8′ 00″
Published by Gavia Music (ASCAP)
Movements:
1. Haunted
2. Wind Chimes
Download the clarinet part:
Laser printed, professionally bound 8.5 X 11 score and clarinet part
$35.00
PDF file, 8.5 X 11 score and clarinet part
$30.00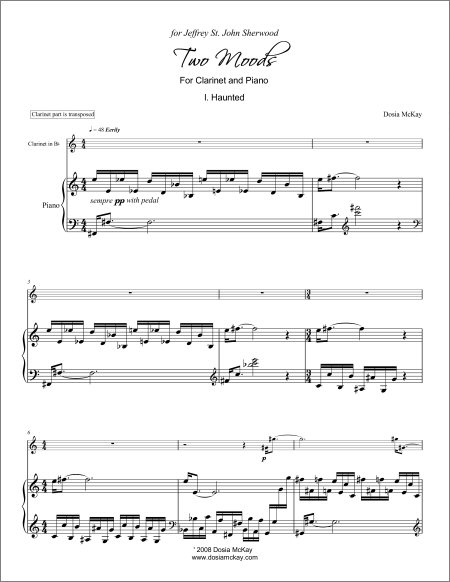 Composed for clarinetist Jeffrey St. John Sherwood in 2008, Two Moods depict two opposite states of mind. The first movement, Haunted, illustrates an eerie, suspenseful feeling, intertwined with passages of sheer panic and terror. Here the composer recalls and confronts her childhood fear of being left alone in the dark. The second movement, Wind Chimes, portrays a feeling of freedom, release, and beauty inspired by the gentle, pentatonic scale rattle of wind chimes outside of her writing studio. Here she also pays homage to composer Aaron Copland with her soft and colorful harmonic palette.
Past performances:
Aaron Lipsky, clarinet, and Lillian Pearson, piano, Clarinet and Friends Reflections Concert, Asheville, NC, March 13, 2021
Steve Loew, clarinet, and Daniel Weiser, piano, in Asheville Music School, Asheville, North Carolina, December 2, 2012
Steve Loew, clarinet, and Daniel Weiser, piano, in a house concert in Arden, North Carolina, November 30, 2012
Steve Loew, clarinet, and Daniel Weiser, piano, on WCQS, Public Radio Station, Asheville, North Carolina, November 30, 2012
Bobby Cota Solis, clarinet, and Yafei Lin, piano, at California State University at Northridge, Cypress Hall, April 2, 2010
Jeffrey St. John Sherwood, clarinet, and Melony Dodson, piano, at the University of Tennessee, March 29, 2009 (premiere)