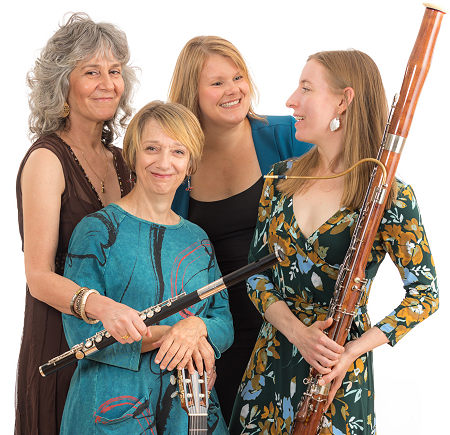 for Mezzo-Soprano, Flute, Bassoon, and Guitar
(optional: Mezzo-Soprano, Violin, Violoncello, and Guitar)
Other arrangements:
Soprano and Piano
Mezzo-Soprano and Piano
Alto and Piano
Commissioned by Kate Steinbeck and Pan Harmonia
Premiered: November 8, 2019
Total duration: 14′
Published by Gavia Music (ASCAP)
Laser printed, professionally bound 8.5 X 11 score and parts (Mezzo-Soprano, Flute, Bassoon, Guitar)
$45.00
PDF file, 8.5 X 11 score and parts (Mezzo-Soprano, Flute, Bassoon, Guitar)
$40.00
PDF file, 8.5 X 11 Mezzo-Soprano and Piano
$35.00
PDF file, 8.5 X 11 Soprano and Piano
$35.00
PDF file, 8.5 X 11 Alto and Piano
$35.00
"Rubble Becomes Art" is a triptych of art songs commissioned by flutist Kate Steinbeck, founder and director of Pan Harmonia (PanHarmonia.org), marking the chamber music organization's 20th season. The composition sets to music the poetry of three North Carolina women writers on the themes of inclusivity and exclusivity regarding cultural, economic, and gender issues. The three poems, although distinct in their style and thematic content, present a cohesive call to healing and reconciliation, not only as it pertains to the injustices suffered by women, but the humanity as a whole.
The opening poem by Sally Atkins entitled "Dark Sister, Sing" is, in the poet's own words, "a ceremony of forgiveness." The beginning stanzas outline deep brokenness and fracture in the fabric of our society. Atkins calls it "rubble of neglect." The poem continues as a stately procession "in the rhythms of breath and seasons", with each stanza reaching deeper into reconciliation and reparation.
The second poem by Valerie Foote, entitled "The Secret", tells the story of a betrayal of a young girl whose innocence is stolen by a stranger and who, fifty years later, experiences a powerful flashback and a breakthrough.
The final poem by Cathy Larson Sky, entitled "Lemniscates", is a rich and abstract kaleidoscope of imagery from around the Earth depicting the forces of nature bringing renewal, beauty, and unity to all humankind. The last stanza of the poem contains the phrase "rubble becomes art" and it is a testament to powerful healing and transformation of a broken world.
Thus, the triptych begins with "rubble of neglect" but it ends with the transformation of rubble into art. This is what we, the artists, do. We gather the rubble in our hands and make art from it, bringing healing to the world around us and to ourselves. It is my hope that my music fuels this endeavor.
Learn more about the triptych here: https://wp.me/p6Qr0-11i
This project was partially underwritten by the North Carolina Arts Council Program Support Grant along with generous support from private donors.
The public premieres by Pan Harmonia of the completed work took place in Western North Carolina at the following venues:
November 8, 2019, 7:30 PM, at the StJames Episcopal Church in Black Mountain, NC
November 9, 2019, 7:00 PM, at the NC Writers Network Conference in Asheville, NC
November 10, 2019, 3 PM, at the Biltmore United Methodist Church in Asheville, NC
April 24, 2020, Brevard, NC (Canceled because of COVID-19 pandemic)
May 17, 2020, the Chamber Music Raleigh season at North Carolina Museum of Art in Raleigh, NC (Canceled because of COVID-19 pandemic)
Brittnee Siemon, Mezzo-Soprano
Kate Steinbeck, Flute
Rosalind Buda, Bassoon
Amy Brucksch, Guitar
Photo credit: Warner Photography