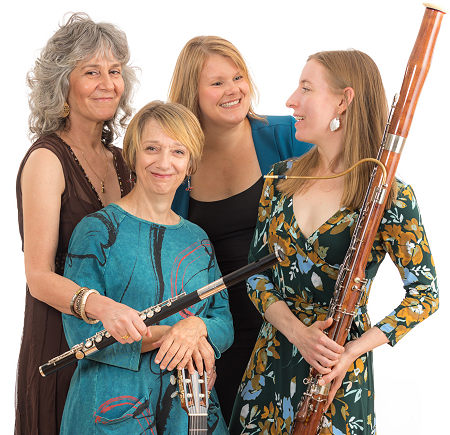 for Mezzo-Soprano, Flute, Bassoon, and Guitar
(optional: Mezzo-Soprano, Violin, Violoncello, and Guitar)
Other arrangements:
Soprano and Piano
Mezzo-Soprano and Piano
Alto and Piano
Commissioned by Kate Steinbeck and Pan Harmonia
Premiered: November 8, 2019
Total duration: 14′
Published by Gavia Music (ASCAP)
Laser printed, professionally bound 8.5 X 11 score and parts: Mezzo-Soprano, Flute (or Violin), Bassoon (or Cello), Guitar
$45.00
PDF file, 8.5 X 11 score and parts: Mezzo-Soprano, Flute (or Violin), Bassoon (or Cello), Guitar
$40.00
"Rubble Becomes Art" is a triptych of art songs commissioned by flutist Kate Steinbeck, founder and director of Pan Harmonia (PanHarmonia.org), marking the chamber music organization's 20th season. The composition sets to music the poetry of three North Carolina women writers on the themes of inclusivity and exclusivity regarding cultural, economic, and gender issues. The three poems, although distinct in their style and thematic content, present a cohesive call to healing and reconciliation, not only as it pertains to the injustices suffered by women, but the humanity as a whole.
The opening poem by Sally Atkins entitled "Dark Sister, Sing" is, in the poet's own words, "a ceremony of forgiveness." The beginning stanzas outline deep brokenness and fracture in the fabric of our society. Atkins calls it "rubble of neglect." The poem continues as a stately procession "in the rhythms of breath and seasons", with each stanza reaching deeper into reconciliation and reparation.
The second poem by Valerie Foote, entitled "The Secret", tells the story of a betrayal of a young girl whose innocence is stolen by a stranger and who, fifty years later, experiences a powerful flashback and a breakthrough.
The final poem by Cathy Larson Sky, entitled "Lemniscates", is a rich and abstract kaleidoscope of imagery from around the Earth depicting the forces of nature bringing renewal, beauty, and unity to all humankind. The last stanza of the poem contains the phrase "rubble becomes art" and it is a testament to powerful healing and transformation of a broken world.
Thus, the triptych begins with "rubble of neglect" but it ends with the transformation of rubble into art. This is what we, the artists, do. We gather the rubble in our hands and make art from it, bringing healing to the world around us and to ourselves. It is my hope that my music fuels this endeavor.
Learn more about the triptych here: https://wp.me/p6Qr0-11i
This project was partially underwritten by the North Carolina Arts Council Program Support Grant along with generous support from private donors.
The public premieres by Pan Harmonia of the completed work took place in Western North Carolina at the following venues:
November 8, 2019, 7:30 PM, at the StJames Episcopal Church in Black Mountain, NC
November 9, 2019, 7:00 PM, at the NC Writers Network Conference in Asheville, NC
November 10, 2019, 3 PM, at the Biltmore United Methodist Church in Asheville, NC
April 24, 2020, Brevard, NC (Canceled because of COVID-19 pandemic)
May 17, 2020, the Chamber Music Raleigh season at North Carolina Museum of Art in Raleigh, NC (Canceled because of COVID-19 pandemic)
Brittnee Siemon, Mezzo-Soprano
Kate Steinbeck, Flute
Rosalind Buda, Bassoon
Amy Brucksch, Guitar
Photo credit: Warner Photography
Dark Sister, Sing
– by Sally Atkins
Dark Sister, sing to me
Sing a song of longing
To see beneath the surface
Rubble of neglect
Human hunger for bread
And kindness.
Dark Sister, sing to me
A song of sacred rage
To shatter the walls
Of fear and ignorance
Refuse the bitter cup
Of violence.
Sing to us, Dark Sister
Sing a song of sadness
Then let us lick
With our own tongues
The wounds of poverty
And privilege.
Dark Sister, sing to us
Sing a song of healing
Offer prayers to Earth and Sky
In the old language of humility
In the rhythms of breath
And seasons.
Sing then to me, Dark Sister
Sing to me of wisdom
A thousand ways to listen
To stones and mountains
To the teachings of the trees
And to each other.
Sing through me, Dark Sister
A song of reparation
Teach me again
The ancient songs of welcome
The chants that open hearts
To the stranger.
Dark Sister
Make of these words
A ceremony of forgiveness
In the beauty of the singing
May we find ourselves holy
And fall in love
With the world again.
---
The Secret
-by Valerie Foote
Humiliation gnaws away at my belly like a blind rat, raw and senseless.
It is the sickening experience of ultimate intrusion and abandonment
that i thought only comes before death.
my ghosts are the demons,
that gather to feed on my misery.
In the morning the greyness settles in the still house.
To the front door, i turn the knob into the sun.
It still lives and i am grateful.
i follow her dance to the open road.
It's then the man calls to me and his smile lulls me.
Hello peanut, he says.
i am the tiny peanut waiting to be devoured.
Why peanut? I think, over the years that have past between us.
The deserted carriage house is full of smells and stillness.
i am special i tell myself
because I caught his smile.
His fingers filter through my hair and a breeze ruffles the pansies with their
frozen smiles
they will keep smiling through my shame.
Their silence will keep the secret in the years to come.
Fifty years later and I tell the gardener No,
Don't plant those pansies in my garden!
They still nauseate me with their false smiles.
They saw and they never told.
---
Lemniscates
-by Cathy Larson Sky
Dawn.
A mule deer and her fawn graze on fallen apples.
Our eyes meet and hold, then
their long necks bend again to fruit.
My boot rakes a rain-soaked patch of mint.
Green scent rises, tinged with forgiveness.
In ancient Peche-Merle caves, hand prints in red ochre
dance on scorched walls. Underground pools rise,
soak crevice to ceiling with bright algae.
Soft now, a dream.
Shrill cries. A legion of eagles passes overhead, blocks the sun.
Grey feathers float toward earth.
Houses begin to shake and sing with the voices
of the dead. Dishes tumble from their shelves.
In Africa they say of breakage spirit has been set free.
In the metropolis sulfurous bubbles explode.
Arctic winds clear the stink. Butterfly bushes
burst the concrete, flutter with lapis,
gold
orange.
Jelly-roll land writhes like a glittering emerald serpent,
a belly dancer's sequined girdle. Fearless children
ride its waves, shouting till nightfall.
Sun returns, a kindergarten drawing, benevolent
cheeks turnip-round. Its lemon rays warm all.
No more you, me, them.
Rubble becomes art. How we live.
A kind of thick bread,
perfumed with herbs.