for String Quartet
A transcription for string orchestra is also available
Composed: 2013 
Total duration: 8'30" 
Published by Gavia Music (ASCAP) 
Download a sample of the score
Laser printed, professionally bound 8.5 X 11 score and parts
$40.00
PDF file, 8.5 X 11 score and parts
$35.00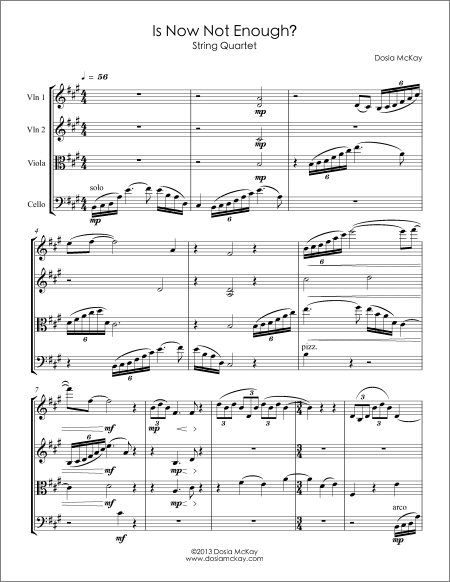 Is Now Not Enough? explores the restlessness and insatiability of a creative spirit. The same invisible force that propels migrating birds and fish, seems to stir the human imagination in search of the ideal and the transcendent, but can it ever be truly found? The music echoes the themes I have explored earlier in my poem entitled Unfurling (see below).
This piece is available on the following album: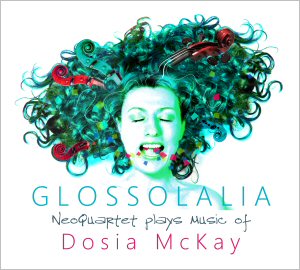 Unfurling 
Be still my soul 
What is your unfurling? 
Your trembling 
Your flutter? 
What is your ache? 
A void that's ever empty 
What is your shape 
That I may fill it? 
Chords unstrummed? 
Songs unsung? 
Words unspoken? 
Colors unseen? 
A flock of geese 
Captured in perpetual takeoff 
You have startled 
The stillness of the pond 
Marred it with ripples 
Your wings 
Water shedding 
Gasping for air 
Hungrily 
Ecstatically 
Forcefully 
What is your haste? 
Is now not enough? 
Is here not plenty? 
Run, soul, run 
For stillness be the death of you 
Chase the sun 
Fly
©2008 Dosia McKay
Past performances:
Inner Voices String Quartet, the Modern Studio, Knoxville, TN, May 11, 2018
Opal String Quartet, sponsored by Pan Harmonia, St. Mary's Episcopal Church, Asheville, NC, November 13, 2016
Opal String Quartet, sponsored by Pan Harmonia, St. James Episcopal Church, Black Mountain, NC, November 11, 2016
Inner Voices String Quartet, The Hive, Knoxville, TN, November 13, 2015
NeoQuartet, the Asean Music Week, Nanning, China, May 2015
NeoQuartet, Festival Gdynia Classica Nova, Museum of the Town of Gdyna, Poland, October 12, 2014
Josh Henderson, Blake Allen, Susan D. Mandel, and Maya Bennardo on the Composer's Voice Concert in Jan Hus Presbyterian Church in New York City, March 10, 2013 (premiere)