Electronic Soundtrack
Composed: 2009
Total duration: 6'30"
Published by Gavia Music (ASCAP)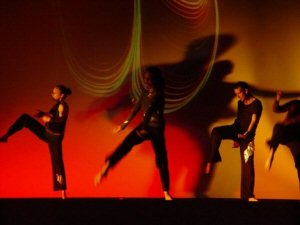 I was invited by a fellow composer and my former teacher James R. Carlson to participate in the annual Art Moves, a collaboration of original art, music, and dance inspired by artwork at the Knoxville Museum of Art.
I was asked to compose music celebrating A Visionary Journey in Glass exhibit by the world-renown glass artist Josh Simpson. I collaborated with choreographer Mike Bensey, Momentum Dance Lab, and videographer Ren Cummings and composed a soundtrack to a multimedia presentation involving live dancers and video, entitled Glass.
This project was a refreshing departure from composing for acoustic instruments, as I decided to focus entirely on synthesized sound linked to the video. I was free to explore not only new harmonies, but also new timbres.
The sonic palette of my composition resembles sounds heard during the process of glass making; the sizzling of the furnace, the bright eerie sounds of thin goblets, and the blowing of air. The music is upbeat, driving to a climax with a steadily pounding drum sequence.
The dancers on the stage spin in circles individually and then meet together to form a sphere imitating the way in which Josh Simpson creates his glass "planets." The music transitions to a slower and more reflective section brought on by the sound of a cooling rain while the glass and the dancers are stretched and moulded through a series of breathy sounds in the music. The piece ends with the return of the furnace sounds and upbeat drum sequences.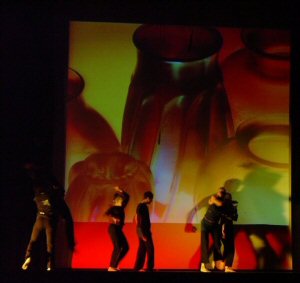 In my poem entitled Music Is I describe music as "the dance of the soul." I draw on that metaphor quite often when I compose and sometimes when I listen to music that moves me. So when I had the opportunity to compose a soundtrack for a dance company, I did not hesitate. I found the entire experience, from initial conceptual talks, through composition, rehearsals, and performance to be very rewarding and inspiring, and I hope to collaborate with other artists on multimedia presentations in the future.