Flute Concerto - The Espionage
for Flute and Piano 
Composed: 2008 
Total duration: 11′ 
Published by Gavia Music (ASCAP)
Movements: 
1. Anywhere But Here 
2. One Regret 
3. Three Moves Ahead 
Laser printed, professionally bound 8.5 X 11 score and parts
$35.00
PDF file, 8.5 X 11 score and parts
$30.00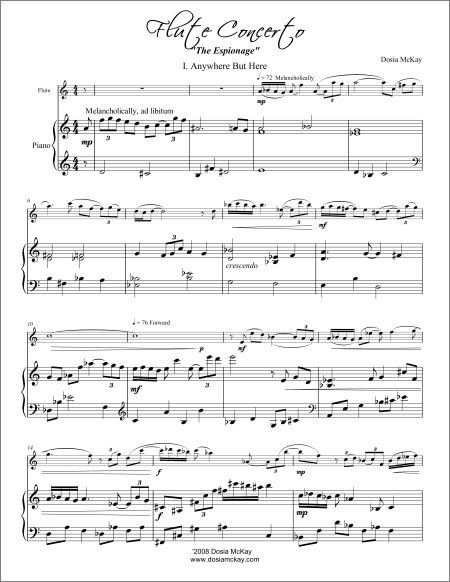 The Espionage concerto was partially inspired by a poem by the same title I wrote in 2008 (see below) and, in a wider sense, by my fascination with the spy thriller genre. I loved the Jason Bourne films with Matt Damon and Mission Impossible with Tom Cruise. Whenever there is a chase across Europe involving trains, old Volvos, period hotels with tall ceilings, crowded subway stations, and miniature coffee shops, I am completely sold. The concept of espionage, to me, from the romanticized and artistic standpoint, has little to do with the actual spying or betrayal. It's all abut a state of mind; escapism, hiding the true self under a disguise, adapting to quickly-changing circumstances, improvisation, alienation, uncertainty, and overcoming fear. In a word, a wealth of emotional material for personal contemplation and art making.
The first two movements of the concerto, "Anywhere But Here" and "One Regret", feature quickly shifting harmonies, lots of internal tension and emotional brooding. The third movement entitled "Three Moves Ahead" is a fast-paced chase with a healthy dose of flute virtuosity involving fast staccato passages, quick runs, and flutter tongue articulation. Once again, as in several of my previous compositions, I return to jazz and pop allusions which are scattered across various harmonic progressions and rhythmic patterns.
Past performances:
Shelley Binder, flute, and Judith Bible, piano, at the University of Tennessee, Knoxville, on March 29, 2009 (premiere)
Samples from a live performance by Shelley Binder, flute and Judith Bible, piano, on March 29, 2009. 
Espionage 

An agent is easy to spot in a crowd 
He wears a three-day stubble 
And a white cotton shirt 
With nonchalantly rolled up sleeves 

Behind designer shades 
The dark circles under his eyes 
Betray his liberties 
With multiple time zones 
And he always pays with cash 

When a long-legged brunette 
Brings him a martini 
He acknowledges her 
With a chilled smile 
And a quick sweep-around 
From the corners of his eyes 

The train arrives 
At fourteen past twenty 
That leaves exactly 
Twelve and a half yards 
From the nearest exit 
With a full tank of gas 
And a set of scalpels 
Milan should be within reach 
Before daybreak 

This time of the year in Belgrade 
The satellite phone reception 
       Kate wanted a small wedding 
Is intermittent with contradicting instructions 
       But her father insisted on the country club 
It's all about planning and some improvisation 
       He was impressed with the ivy league degree 
A steady hand and relaxed breathing 
       She never enjoyed reading 
A flawless poker face 
       Chattered endlessly about nothing 
Moss green eyes that perceive everything 
       And interrogated him about his feelings 
Yet reveal nothing 
       She always thought he was obsessive-compulsive 
The meeting is in the usual place 
       Too nit-picking 
Walk confidently but not abruptly 
       Why did he ask her about the front brakes? 
Let them assume whatever they may 
       And then he left so suddenly on Monday 
The key is in the glove compartment 
       He is so utterly boring 
Of a Volvo which is parked 
       And completely lacks imagination 
Sixty five meters from the intersection 
       Some men have wit and an aura of danger 
Rely on gut feeling, spatial coordination and 
       They know what they want 
Be three moves ahead of competition 
       And take it without hesitation 
It becomes second nature 
       Is it too much to want a little adventure? 
Always carry an extra pair of latex gloves 
       Maybe he has someone? 
Dental floss can also do the trick 
       No, he couldn't hide anything 
The German passport is inside the cover 
       She will tell him they could try harder 
Of Crime and Punishment on the second shelf 
       And give it more time 
When exposed deny everything 
       Talk things through 
Remove all traces of evidence 
       Try to remember what brought them together 
Lay low for a while and 
       Ease up on all this travel 
Resurface in Zurich by Friday 
       Or remodel the house 
Then evaluate the difference 
       Or have a baby 
Between real and perceived danger 
       Or just call it quits 
When in doubt abort the mission 
       It's half past midnight 
The safe house has a first aid kit 
       And he is not going to call after all 
And a one way ticket to Madrid 

©2008 Dosia McKay